The VA is Denying Me Lifesaving Healthcare Because I am a Transgender Veteran
By: Nicole Vanderheiden 
I faithfully served six years in the U.S. Air Force as an Arabic language intelligence analyst. I achieved the rank of Staff Sergeant and deployed to Baghdad in support of Operation Iraqi Freedom. I was highly decorated and praised for my leadership and my contributions to accomplishing our missions. Because of my sacrifices, I am entitled to receive my medical care from the Department of Veteran Affairs' medical centers. However, because I belong to a certain class of people, the VA is refusing lifesaving healthcare to me and up to 134,000 veterans like me. We are America's transgender veterans.
I left the military in 2012 and began my gender transition the following year. Despite the 2011 repeal of "Don't Ask, Don't Tell," openly transgender service members were still banned from military service. Because I voluntarily separated from the military, I received an honorable discharge and access to the VA benefits I earned. Even though I qualified for VA medical coverage, however, the federal department has a policy forbidding certain forms of lifesaving treatment I need. There are six excluded services to the VA's medical benefits package. Listed after drugs not approved by the FDA, but before memberships in spas and health clubs, is a ban on "gender alterations." The VA's modern interpretation of this obscure and nonsensical verbiage is that it will not provide medically necessary transition-related surgeries.
Despite the recommendations of my team of VA doctors, I will not receive the lifesaving treatment I need. My doctors and I are not the only ones who see this care as medically necessary. It is considered medically necessary by the American Medical Association, the American Psychological Association, the American Psychiatric Association, the American Academy of Family Physicians, the World Professional Association for Transgender Health, and many other major medical associations. There is broad consensus about this in the mainstream medical community.
When it contemplated and subsequently shelved a proposed rule change, even the VA acknowledged the "severe medical consequences for certain patients if transition-related surgeries and procedures are not provided." According to the VA's National LGBT Program co-director, Dr. Jillian Shipherd, transgender veterans are 20 times more likely to attempt suicide than other veterans, yet studies have shown that access to these procedures significantly reduces suicide rates among transgender individuals to rates similar to their cisgender (i.e., not transgender) peers. These procedures are not a mere fantastical desire for transgender individuals, these procedures literally save lives.
After my doctors prescribed this course of treatment, which is commonly recommended for transgender individuals, I asked them to take the next logical step: refer me to a specialist who performs these lifesaving surgeries. They told me VA policy prohibits them from doing that within the VA health system; I would have to go to an outside doctor and pay out-of-pocket. As an underemployed, single mom, I could not afford to pay for these several-thousand-dollar procedures. They are relatively inexpensive as far as surgeries are concerned, but the cost still puts them out of reach for many transgender individuals.
So, as I fight for my life, I sit and wait. I sit and wait for the VA to change its rules, which is completely within its powers. I sit and wait for lawmakers to compel the VA to grant equal access to medical care for transgender veterans. I sit and wait for a lawsuit to meander its way slowly through federal judicial system over the course of years with no end in sight. The constitutional question as to whether it is legal to deny healthcare to transgender individuals as a de facto subclass was answered in 2014 when a very similar suit was brought against Medicare – it is not constitutional. Regardless, I wait, along with up to 134,000 of my fellow transgender veterans.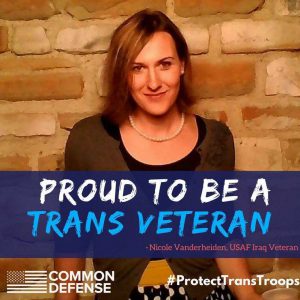 SSgt Nicole Vanderheiden, USAF, Iraq War Vet, is a coffee addict and beer snob who advocates for transgender service members, veterans and youth. She is a spokesperson and organizer for Common Defense PAC, an organization made up of service members, veterans, and their families fighting for social justice. She is also the Chief Administrator of Transforming Families MN, a non-profit organization serving transgender youth and their families. She lives in St. Paul, MN with her two children.