By: Trina McDonald
In 1987 I made the decision to join the Navy, I was on delayed enlistment for a year and during that time I prepared for the big day to leave which was October of 1988, just a few months after graduation. I had no idea what to expect other than my first experience on an airplane! But, I had a secret, I was gay.
My experience in boot camp was like most, full of new people, lots of exercise which I loved and a beginning of something amazing! I'll always remember my first set of orders, I was going to Adak, AK a place I had never even heard of in my young life. I had no idea how my existence would be changed forever!
I arrived on Valentines Day 1989 and within months I'd be raped! This would happen two more times before an attempt on my life by being thrown into the Bering Sea! I coped with alcohol and my fear of being gay was extinguished with the attempt to just survive!
Eventually I would end up in the lower 48 in San Francisco, the home of the LGBTQ community! That is where I would once again become a secret. Dont ask Dont tell was not in existence at this point and life was going to get worse. My drinking was out of control, my mind was reeling with the assaults and I was broken!
Eventually I'd be discharged due to a knee injury then the real journey would begin…
I had no idea how to live, the military was life and it had betrayed me. My drinking would become my best friend for the next 10 years and would lead me to homelessness and a progressive addiction and suicide attempts, this would happen within the first year as a veteran.
In 1998 I would attempt suicide once again and survive yet again, it was then that I decided to live! I had no idea that I had options, I was running on pure will! It would be several more years before i found my way to the VA and the support i needed.
In 1999 i finally got sober and it's been over 18 years since it all began. My life is much different.
In 2012 I told my story for the first time in The Invisible War and a giant shell cracked open for me. I'd spent years punishing myself trying to forget, skimming the surface of my experience while serving and what came after but, today I'm healing!
Here it is 2018, I'm a married and have the opportunity to be a step-mom to 3 amazing boys as well as advocate for other veterans who share my experience and we fight together to create some form of change.
I continue to fight for survivors of Military Sexual Trauma and be of service in the recovery community to the best of my ability, I still struggle with depression and suicidal thoughts but, my fight is not as hard as it once was, So, with that all I can say is ONWARD!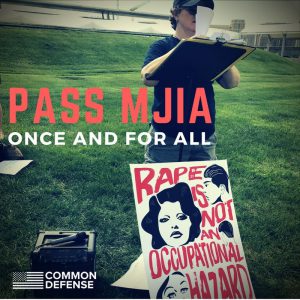 Trina McDonald lives in Puyallup, WA and served in the Navy from 1988-1990. She was one of the subjects of the award-winning documentary The Invisible War, which focused on the crisis of sexual assault in the military. Trina worked as a Chemical Dependency Counselor in high risk communities including the justice system before her PTSD prevented her from continuing her career in Behavioral Science. Currently she is a part of the leadership team of Common Defense, a grassroot veterans organization focusing on prevention of hate against veterans and their families. She is also working on a biography and advocates for Suicide Prevention and Reduction of MST in the Female Veteran population. Some media appearances include; CNN with Jake Tapper, The Washington Post, PBS, NPR , LA Times and Democracy Now!