By: Eric Ballentine
I was 17 years old. I stood inside a small room with about twenty others at the Philadelphia Military Entrance Processing Station in Philadelphia as I swore that solemn oath.
As far back as I could remember, I always wanted to be in the military. My father retired in the Navy as a Master Chief. His leadership always motivated me to be a leader. I was attracted to the challenges. The uniform. The camaraderie. I chose to "be all I can be" in the U.S. Army. I would serve in the Military Police Corps.
In my five years of service, I experienced what it meant to be a team player and I learned what kind of leader I wanted to be. I knew quickly how I would lead and how I would motivate those whom I led. I knew I would lead from the front and capitalize on the strengths of those around me to make an effective team that was built on trust and comradery.
Just shortly before completing my first year in the Army, I was involved in a major accident. While I was a driver in training, the vehicle lost traction on the dirt road and rolled over four times and ejected two passengers. After the investigation into the accident was completed, it was determined that it was due to driver error. I had done everything that the instructor had told me to do. I was humiliated as they placed the blame on me and announced it in front of the entire battalion. Two people were critically injured and would never serve in the military again.
That moment changed my life forever. It made me look at others through a different lens. I lost trust and faith in those that I believed cared. I became depressed, desperate, and alone. The response from my unit was to get the chip off my shoulder — to just "suck it up and drive on."
Someone getting help with mental health was considered weak. For that reason, I refused to seek help because I felt I could get better on my own. I was in denial of needing care while I continued serving my unit to the best of my ability. I had learned to master the "fake it till you make it" philosophy. Once I deployed to Iraq, things got a bit better for me. There was too much going on for me to have to worry about the past. It was about the personal safety and surviving each day.
Nine months into my deployment, I got seriously ill and was evacuated and sent to Germany for medical care. I was in the intensive care unit at Landstuhl. After recovery, I was told I would have to return to the U.S. due to rising health concerns. I was diagnosed with a blood disorder and was told I could no longer serve.
After my medical discharge, things went downhill for me for a while. Battling depression in the Army was one thing but doing it on my own as a civilian was difficult in ways that I had never imagined. For the first five years of my adult life, my purpose was given to me. For five years, I was told where to go, when to be there and how to get the job done. But no one was there when I got out. My depression was at it's worse. I was suffering. I was reckless. I was desperate. I was failing at relationships. I was failing at work. I was consumed with a sense of failure. Despite the many unfortunate things that happened while serving, I missed it. I missed the camaraderie and that sense of purpose that the Army gave me.
Out of a last chance of desperation, I decided I would check out my local service platoon with The Mission Continues. I met amazing people with similar shared experiences. I felt motivated. I felt alive. I felt renewed. For the first time in a long time, I knew what it meant to be cared for and valued. I was around like-minded individuals who wanted to make an impact on the world. I was empowered by friends and people who I would soon consider family. Today, I am a leader. I lead because there was no voice for me. I lead with the hope that I can empower others to do so.
As minority veterans, we do not have the privilege to be silent. Silence is a killer for those who are not represented. We must come together and assemble. The only way we can truly band together is by speaking our truths. Together, we must shine a light for those who remain the in the dark so that our unity can serve as a beacon of hope for those who feel alone. There will never be a stronger purpose than the one we build together. We must empower each other and hold each other accountable. We will make our voices heard. We will be silent no more!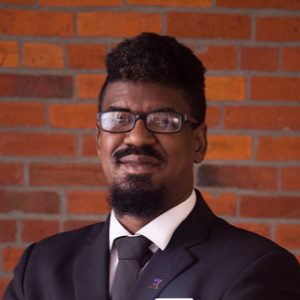 Eric Ballentine served in the Army for five years as military police from 2000-2005. He is currently a senior at the University of Washington Tacoma majoring in urban planning and community development. Upon graduation, Eric hopes to work in the nonprofit sector to assist veterans and their families experiencing homelessness or housing instability.
He is the current platoon leader for The Mission Continues in Tacoma and also serves as the Director of Community Service within his SVA chapter. Eric enjoys serving the community and advocating for all veterans.