By: David Keener
I wasn't always the most confident kid growing up in Georgia. Discovering early that I was gay certainly didn't make life any easier. Most of my childhood was spent hiding. I'm no psychologist but I'm going to bet that it didn't do any good for my transition into adulthood. I had every reason to believe that I wasn't worthy of the military or any thing else for that matter. My confidence was nonexistent, and I grew up thinking I'd never leave my hometown or achieve anything remarkable. But one day I decided to take a chance and I enlisted into the U.S. Coast Guard.
The following ten years were life changing. I fully embraced the core values of the Coast Guard: honor, respect, and devotion to duty. I learned that I was capable of far more than I, or anyone else, had given me credit for. I found a family that embraced who I was, warts and all, and would stand by my side through thick and thin. While the technical knowledge was certainly important, the personal growth and sense of confidence that I had found was worth more than any training I had ever received. I had found a family and a support system, but I also learned that, if it came down to it, I could stand on my own.
Unfortunately, I would need to put that to the test as I received the news that I was being discharged under "Don't Ask, Don't Tell". Within a month, I was separated. I had practically no time to prepare myself for civilian life. My finances weren't enough to sustain me, and my family was largely in the dark about the entire ordeal. The one person I felt would always be there for me turned away and my "family" was quickly disappearing. Thankfully, I had some support from my shipmates but there was nothing that could be done for the psychological impact the discharge had on me.
From the moment I walked off the hangar deck, I was thrown back to my childhood. The combination of rejection in all major aspects of my life at once destroyed my confidence and I truly believed my life was over. For 2 years I did the best I could to sustain myself but the glaring "homosexual" on my discharge papers would serve as a constant reminder of my failure. All my achievements in the military meant nothing once my sexuality was discovered and I began to take that to heart. I didn't believe I was capable of working on aircraft anymore. I didn't think I was worth having a relationship. I didn't believe I had any notable skills. So, I let it all go and fell into a cycle of despair.
Eventually I had to return home and that meant I had to go back into hiding. Even though I was an accomplished avionics technician and flight mechanic, I accepted a job in the service industry. I accepted that this was the best I could hope for and due to my sexuality, I didn't belong anywhere. I didn't call myself a veteran and downplayed anything I had done while in service.
But I would soon meet someone in emergency medicine who dragged my story out of me and he was surprised that I wasn't doing more. He practically demanded that I return to school and earn my AEMT license. It took a while, but I finally buckled and went to a local college and signed up. My first year I kept my nose in the books and soon started my clinical rotations. It was there that I discovered that the private sector isn't as nice as some may think it is. I thought without policies like DADT, they would be more accepting of my sexuality but that was far from the case and it was a major factor for me in leaving the program. It seemed that the "uniform" was just not in my future no matter what sector it was in.
But I also discovered our local Student Veterans of America chapter. I still felt out of place as I hadn't accepted my achievements but the veterans there weren't satisfied with that. They pushed me to go beyond the limits I had placed on myself and eventually I was elected as the President of the chapter as well as the State President for the Georgia Student Government Association presiding over all technical college chapters in the state of Georgia. I was soon on a first name basis with the organization's national leadership. I was even nominated for a major leadership award in my state. But my heart was still very much in the military, so I shifted my degree to programming and web design and began taking a more vested interest in the wellbeing of my brothers and sisters.
I began fighting for their cause and discovered that we all shared the same experiences as veterans transitioning back to the civilian world. But through all of it, I still felt like I wasn't fully accepted. The glaring words on my discharge papers still reminded me daily that I had failed. I seemed to be succeeding but I didn't feel it. My confidence was still through the floor and it appeared that I was using my work in education to mask it.
I continued to expand my work into other VSOs including The Mission Continues and Team RWB. While I fully respected their cause and the approach they took with veterans, I found a glaring omission in their message. These major organizations who have done so much for me as a veteran did little for me as a gay man and I began to realize that a large part of my anguish throughout the near ten years since my discharge under DADT was that I never confronted it and many veteran organizations rarely speak of it. It was as though the repeal of DADT signaled that everything was okay for our community and all was ops normal from that point on.
But it isn't.
As I began to tell my story to other veterans, I discovered I was not alone and the demons I deal with still to this day are common amongst those of us who served under DADT and even those who served prior to the policy. It has left many veterans broken and the lack of a voice for them only serves to further that damage.
We unfortunately live in a world of statistics and the few studies done on LGBTQ veterans show insanely small numbers when compared to the larger veteran and military community. But it would be a discredit to our brothers and sisters who served to take those numbers at face value. There are many more that don't disclose who they are and go on living unheard dealing with their demons on their own. There are those still trying to find their "family" in communities that either misunderstand their service or their identities. Diversity is more than a hashtag. It's more than a marketing tactic to bolster numbers. Minorities are not simply poster children there to advance the general cause of veterans. They are real people with unique circumstances that must be engaged appropriately.
And I believe Minority Veterans of America is the key to reaching that goal.
I feel incredibly blessed to be a part of this organization. From where I sit, I believe it fills a void many of us find when engaging our brothers and sisters in other VSOs. We are a platform that can give a voice to those whose story may never be told. More importantly I believe we can help veterans that face these demons every day come to recognize the significance of their sacrifices and never question their right to stand along side their veteran brothers and sisters. They have a "family" with us and I look forward to the day when that will be true for all veterans.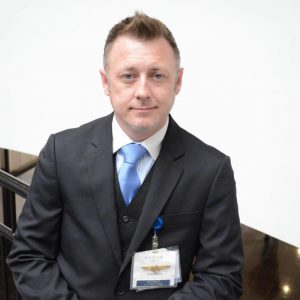 David served in the U. S. Coast Guard for 10 years as an Avionics Electrical Technician and HH-65 search and rescue flight mechanic before separating under the now repealed "Don't Ask, Don't Tell" policy. He has spent most of his life working with technology including the implementation of modern software and hardware deployments for the Georgia CrimeBuster Information System.
David attended school at Southern Crescent Technical College where he earned his Advanced EMT certification and a degree in programming covering a multitude of coding languages as well as web application design and development. During his time there he was also heavily involved in Student Life where he served as State President over all student government organizations under the Technical College System of Georgia and was nominated for the Georgia Occupational Award for Leadership.
Today, David works with many veteran organizations including The Mission Continues and Team RWB and continues to support his fellow veterans through Student Veterans of America. He is also continuing his education in communication and works with graphic design and branding.