By: Timothy Phillips
As a child, I never dreamed I'd go to college.
Actually, I did dream of college, quite a bit. Growing up as a young Black male in Pittsburgh under challenging economic, personal, and familial conditions, I was lucky enough to be very cognizant of the world around me to know that I wanted more than what the blighted environment around me, presented, and my entire life the mantra of "more education" was drilled into my head by my grandmother, a light at the end of the proverbial tunnel of my predicament.
But sometime later, the sails of my life guided me on a different path; I joined the United States Navy. I absolutely cannot stress enough that my military experience is the absolute most transformative, formative experience of my life.
Growing up, I was unfamiliar with the realities of military life; I didn't have any close relatives who went into military service, and the same went for most of my friends as well. 'The military' for me, was mostly an abstraction, something I saw on television and movies. That abstraction quickly turned into reality, as the recruitment office shifted into boot camp, boot camp into my first command, and then into sea service and deployments.
Sea service in particular is incredibly challenging; I worked on the flight deck, a grueling gauntlet, wrought with danger at every turn. With jets and helicopters buzzing above, I quickly learned and internalized the term 'keep your head on a swivel', referring to the hazardous environment inherent to the deck, where one wrong move might be your last due to an errant propeller or jet engine blast.
Much of the challenges of military life were also much more general; being away from home, I worked long hours, learned how to follow (good leaders and bad), eventually after several promotions, I learned how to lead, I learned discipline, perseverance, and I sharpened my focus. One of the biggest opportunities of growth for me in particular came with gaining rank; when my friends and fellow Sailors transformed into my charges with me as their leader literally overnight.
Also, while the military is a relatively utilitarian organization (where competence matters above all), the fact that I am a person of color yielded it's own challenges as well, oftentimes I was one of the only representation that young Black Sailors saw and worked for that looked like them that could relate to their struggles, issues, and challenges, many of which are unique to being a POC. Ultimately however, I rose to meet those challenges and eventually succeeded in them, gaining the rank of Petty Officer 2nd Class, and being awarded accolades such as a Navy and Marine Corps Achievement award.
As much as I loved the Navy, I knew staying wasn't for me, so I pointed the sabre of my efforts towards academic pursuits and attending college classes during active duty. When I first was interested in continuing my higher education, I was a ship lost in a storm. Well, almost literally; I stumbled onto UWT's page on the tail end of my enlistment in the United States Navy.
Coming off 5 years of military service, I knew I wanted to begin a life as a civilian, but I was unsure of how. However, I recognized the value of an education as something that our modern world values (and in many cases, demands) and its intrinsic value as my family puts it; something that "Nobody can ever take away from you."
Through the process of speaking with Admissions Advisors, Veterans center officials, and current students, I decided to apply, and then trepidation turned into nervousness, and nervousness turned into anticipation.  Upon my acceptance, all of those feelings transfigured into excitement, that materialized on that first day, shortly after my honorable discharge and my first class as a student. This was Autumn 2016, and since then, I have discovered my career passion for Marketing (transferring from my former major; Listless Prospective Student), taken and enjoyed a multitude of classes with challenging, kind, and knowledgeable professors, and taken a work study job as a Peer Advisor in UWT's Student Veteran center.
Working as a Peer Advisor has so far been the most insightful experience here at the UWT. Transforming from a Veteran to a Student (Veteran) can be daunting, I know, because I was there, and being able to be at the 'front' to assist, encourage, and facilitate those who were once in the shoes (or rather, boots) as myself is incredible.
It's important for me to remember however, that even with all of the above, I am still a 'Work in Progress'. There's still so much more to do and so far, to go (It is still my dream to gain acceptance into Milgard and the Marketing major), but despite my unconventional journey to get there, it's a journey nonetheless, and I'm both grateful and amazed and UWT's role in it.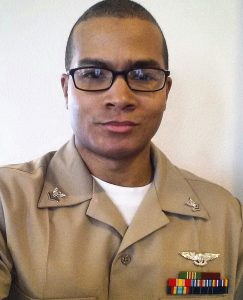 Tim is a Pittsburgh native and a US Navy veteran of five years. After the military, Tim chose to take up higher education and is currently in his senior year at University of Washington Tacoma. He majors in business marketing and serves on campus as a peer advisor for other veterans on campus. His leadership, knowledge and life experience has provided great insight for other veterans on campus who share similar experiences on campus.