By: Katherine Pratt
I knew that I was always going to serve in the military, but I never thought I would be a veteran.  Veterans were people like my dad, who served over 20 years and had insane declassified stories that were standards at the holiday dinner table.  Or they wore hats and jackets displaying their service or engagements. They were white, male, and conservative.
I am none of those things.  I'm a progressive, atheist, bi-racial Korean-American woman.  I had joined the Air Force for three reasons: a college scholarship, as a stepping stone to being an astronaut, and because I respect and believe in the Constitution of the United States.  After four years of ROTC and four more of active duty service, I separated from the military and left feeling unfulfilled. Yes, I had graduated with a degree in aerospace engineering from MIT.  But I had not completed pilot training. In my eyes this was a failure pure and simple, and therefore I was not worthy of the standard "veteran" moniker. I was also afraid of the stereotypes that people would attach to me if they knew I'd worn a uniform – particularly since I'd never been on a combat deployment.  
About the only thing that followed me to my first civilian job was my callsign, which had been assigned by the pilots in my unit to all of the engineers.  They had bestowed upon me "Newt", partly after the little girl in the movie Aliens, and also because my car's name was Newton. This made hiding my previous life more difficult, because inevitably people would ask why my PI and the postdocs didn't call me Katherine.  I learned how to explain my job as an engineer, and continued to avoid veteran-centric events.
My aversion to the label veteran went so deep that I truly didn't know that I was a veteran.  When I applied to graduate school, I actually looked up the official regulation of who could be called a veteran, to see if I should check the box on my admissions forms.  In retrospect, this was an excellent choice because it put me on the e-mail list for communications from the veteran benefits office. Shortly after I started graduate school, I got an e-mail promoting a new veteran diversity commission run by some students on campus.  I was hesitant, but I replied to the contact expressing interest in joining. This is how I met Lindsay Church. Without checking that box, I would never have stumbled into the world of veteran advocacy.
At first I was a member of the student veteran club.  Then I became treasurer, vice-president, and eventually president.  I networked with students from the business and law schools, endeavoring to create a stronger network.  I was surprised how many of us there were, and how similar they were to me in worldview. Many times it was comforting to talk about issues in our current lives, knowing we could frame our responses based on a similar shared background.  It felt good to have that sense of family again.
Not everything is rosy and perfect, though.  There is still misogyny, homophobia, and racism embedded in the fabric of our military culture that needs to be attacked head on.  Lindsay and I have continued to fight our battles, hers in particular as commander of an American Legion post. I was one of the first people to read her resignation letter.  I was simultaneously so proud of her strength and courage, and also so disappointed that she had been forced to a tipping point. The next day when she messaged me asking to be a co-founder of Minority Veterans of America, I signed on without hesitation.  This was an opportunity to find veterans like me: who don't feel like they fit in, who don't think they're veterans, who don't want to be veterans. We decided it was time to take on the stereotypes and make it acceptable to be a veteran, regardless of skin color, religion, gender, and sexual orientation.
The community we're trying to create is the one I would have wanted to enter when I left the military: a space of common experiences but overflowing with diversity.  I am more at peace now that I didn't complete pilot training. I have found a path of advocacy and service that means much more to so many people. Lindsay and I don't know how many lives we can impact, but the response to our message has been at times overwhelming.  We are here to help. We are here to listen. We are here to amplify the voices of those who have been silenced. We are here to create change.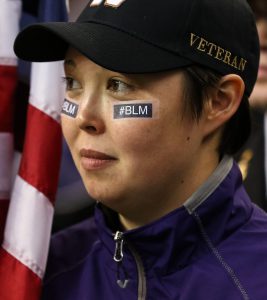 Katherine Pratt is an Electrical Engineering PhD student at the University of Washington.  She served for four years in the Air Force, spending most of her time at Edwards AFB as an operational flight test engineer on the F-35 Joint Strike Fighter.  Her motivation to help establish MVA is strongly based in her own experience leaving the military.
When Katherine separated in 2012, she consciously decided to not identify as a veteran, solely because she didn't conform to the veteran stereotype perpetuated in society.  It was only after meeting Lindsay Church that she understood the only way to defeat the stereotype is to speak out and upend the stereotype that truly does not represent the diversity of the veteran community.
Katherine is now more vocal about her experiences in the military and hopes she can help others who were like her embrace their veteran identities.