By: Tammy Barlet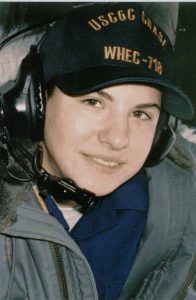 Serving as a woman in the Coast Guard from the late 90's to the turn of the century was slightly different from other services. From the time I started boot camp, men and women integrated into boot camp companies, and all rates were open for women to apply. Although many underway billets were not available to women because of berthing limitations. Due to my high ASVAB scores, I gained a guaranteed geological area of my choosing after boot camp.
Little did I know the only two available non-rate female billets for District 5 were at an integrated support command: the moral, welfare and recreational department (handing out basketball to dependents at the gym), and the housing division (housekeeping for the barracks). Unfortunately, the gym was my first duty station in the Coast Guard.  I quickly changed my plans of waiting three years for corpsman school and applied to the shortest A-school list I could find- Radarman (now known as Operation Specialist).
Upon graduation of RD A-school in Yorktown, VA, I was the youngest female RD in the field. It wasn't until my first-class petty officer felt I was unable to qualify as a watch supervisor had my gender and age become a barrier. Thankfully, I had a no-nonsense chief who quickly put the first class in his place.
While I was active duty, I prided myself on my accomplishments as a service member and a woman. Little did I know this was all in preparation for the battle I faced in May 2001, when I was involved in a severe accident that not only changed the course of my Coast Guard career but my mental and physical abilities in everyday life. After my honorable medical discharge from the Coast Guard, I did not self-identify as a veteran except for when I needed to receive medical attention at the VA.
She served. I served. We served. Reclaim what we earned.
Over a decade after my discharge, I began using my vocation rehabilitation benefits and attending Temple University. While on campus, I became involved in the university's student veteran organization which lead to expanding my veteran network into the community. Being directly involved with veteran organizations reinforced my confidence and eased my depression symptoms. It has also opened my eyes to many women veterans who do not self-identify therefore missing out on many other the benefits and opportunities they rightfully earned because of their service to our country.
No one will know our story until WE share it.
Less than a year after I attended my first female veteran writing group, I performed my monologue about reclamation to an audience in the East Village. I hope by sharing my story, other women veterans will embrace their identity as a veteran and be empowered to share their story with others. I know if it wasn't for those who came before me, I wouldn't be where I am today.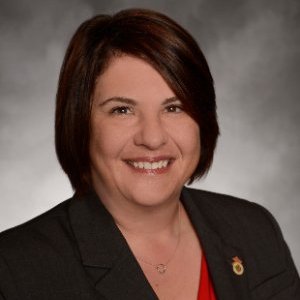 Tammy Barlet served for over 8 years in the United States Coast Guard, beginning in 1995. As an Operations Specialist Third Class Petty Officer, she served on board the USCGC Chase and VTS Houston/Galveston.
Fourteen years after separating from the military, she graduated from Temple University with a Bachelor's degree in Public Health. To continue her mission to help others, she began a Master's degree in Public Health with an emphasis in Health Policy from George Washington University.
Tammy also accepted a Mission Continues fellowship as a Policy Associate at Student Veterans of America in Washington, D.C. The fellowship provided the opportunity to continue her involvement with student veterans while reinforcing her confidence within the political arena.
Tammy is often labeled as a bumblebee because she pollinates her time and knowledge to those she meets and makes their lives a little sweeter. As a semi-finalist for Ms. Veteran America 2018, Tammy plans to promote her platform to motivate and empower women veterans to uplift each other and find their tribe.
While a member of countless VSOs, Tammy is supported and loved by her family and friends, who she finds time with her busy schedule to go hiking, kayaking, and even geocaching.